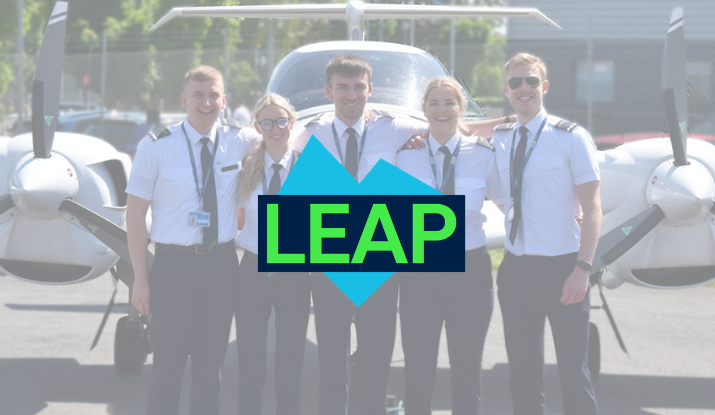 Intensive. Inclusive. Inspired. Prepare for takeoff with the fast-track Leading Edge Airline Preparation course; LEAP.
LEAP is a full-time, integrated pilot training programme, designed to deliver the most comprehensive airline pilot career preparation possible. With this course, no aspect of an all-inclusive pilot education is left out: ground and flight training is specialised, supportive and individually tailored for rapid progress; a far-reaching enrichment programme develops your personal and professional skills; you'll gain a BSc degree in Air Transport Management with Airline Pilot Training,  and will have access to a unique student wellbeing curriculum, too.
During the course, you will train at two locations, our Oxford Campus and our Alhama Campus in Murcia, Spain which is our Fair-Weather Base for Foundation Flight Training. At both campuses, you will stay in first-class accommodation, have access to state-of-the-art equipment and technology along with support from our experienced staff.
No previous experience is required, although we will assess your potential for success before you enrol. In 18 months, this ab-initio ('from the beginning') course will take you from no flying experience to airline-ready in every way.
LEAP in. It's all included.
One price. No surprises.
Theoretical Knowledge training

 

Initial flight training

 

Advanced flight training

 

Fair-Weather Base in Alhama, Spain

Advanced Upset Prevention Recovery 

Training

 

BSc Degree

 

Accommodation

 

Uniform

 

iPad

 

Padpilot ATPL ebooks

 

Training materials & flight bag

Question bank access

 

ATPL (A) qualifying exam fees

 

Flight test fees

 

Wellspace

 wellbeing services

Graduate employment services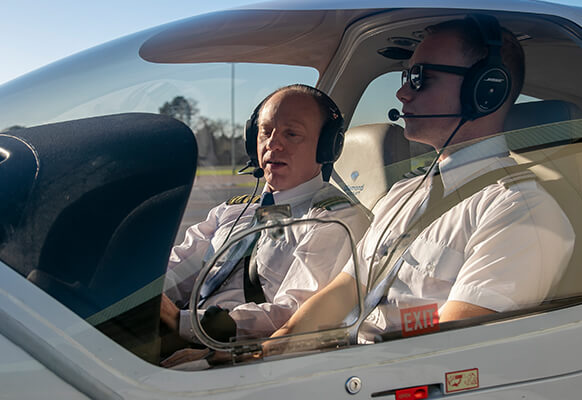 Leading Edge, Oxford Campus
Before you start
Requirements to join the course are, as a minimum;
Aged 18 or over at the start of training (no upper age limit!)
A current UK issued passport or Settled Status (indefinite right to remain)
UK CAA Class 1 medical (for UK CAA issued licence)
5 GCSEs at 4+ or equivalent including Maths, English and a Science (preferably Physics)
ICAO 5 or above in spoken English
Successfully complete our robust Skills Assessment
Skills Assessment
Computer based assessment
Interview
Group Exercise
Debrief
Successful completion of our Skills Assessment day means you're eligible to embark on the LEAP course with a Training Guarantee.
The Training Guarantee gives you the peace of mind that we won't charge you for any extra training or exam sittings. This means that the course price you pay will remain the same – with our Training Guarantee covering any additional training fees (except where it is due to poor general attitude, lack of commitment or failure to attend training as required).
Leading Edge, Oxford Campus
LEAP starts with an education in the ATPL(A) theoretical knowledge that will form the academic foundation of your future career.
We are very proud to be leading the way and are delivering the most up to date academic syllabus (e.g. ECQB2020) for the Regulatory Authorities to our students. This academic syllabus prepares students for life in the flight deck, relating the theory to the practical aspects of a career in aviation.
The 13 ATPL(A) subjects are covered over two separate modules of study, with CAA exams for those subjects being taken at the end of each module. The ATPL(A) exams are computer-based, and our students sit their exams at our own CAA approved examination centre.
Students also study KSA100 (Knowledge, Skills & Attitude) which helps to develop the softer skills that are a critical part of their future career and includes subjects such as CRM (Crew Resource Management) and TEM (Threat and Error Management).  This important element of the course will be continuously assessed throughout your training.
Within Ground Training and as part of their KSA studies, our students also complete a ground school supplementary flight. This allows students to experience and use their recently acquired knowledge in the air while also introducing some core flying skills that they will continue to develop in the foundation flight phase.
We provide our students with Padpilot digital learning materials accessed on an iPad so that you can always have all your ebooks with you.
13 subjects
Aircraft General Knowledge
Instrumentation
Meteorology
Human Performance & Limitations
Principles of Flight
Communications
Air Law
Flight Planning
Mass & Balance
Aeroplane Performance

General Navigation

Radio Navigation

Operational Procedures
3 modules
750 training hours (minimum)
26 progress checks
13 Qualifying exams
BSc Degree:
Air Transport Management

with Airline Pilot Training
Leading Edge, Oxford Campus
During ground school, you will begin your BSc Degree in Air Transport Management with Airline Pilot Training. This will be completed alongside the other elements of the LEAP course and is delivered by Buckinghamshire New University.
The degree features five modules, of which more than half consist of flight training. We carefully plan out the degree content to allow focus on ground school and flight training, so there's no need to be concerned with the extra workload! In addition to this, the ATPL exam & advanced training count toward degree credits.
Course Content
Aircraft General Knowledge
Instrumentation
Meteorology
Human Performance & Limitations
Principles of Flight
5 modules
3 essays
2 presentations
0 exams!
Benefits
Stand out in a competitive industry
Airline management roles require a degree
Safety net – In the event of failing a medical during your career, having a degree can be a great help in securing another role
Learn new skills, information and knowledge for interviews
Develop an understanding and awareness of the aviation industry
Foundation Flight Training
Leading Edge, Alhama Campus
With ATPL ground school complete, you'll work towards achieving your Commercial Pilot Licence (CPL). Our foundation flight training is conducted from our Alhama Campus, where highly experienced instructors will take you through the early exercises up to your first solo and then onwards to your Commercial Pilot Licence in a multi-engine aircraft. Our course is a ME CPL (multi-engine Commercial Pilot Licence), so you will initially fly our modern DA40 single-engine aircraft and progress onto state-of-the-art DA42 multi-engine aircraft.
130.3 hours training hours
Commercial Pilot Licence Skills Test
Aircraft: DA40, DA42
Sim: AL42
Leading Edge, Oxford Campus
You'll return to Oxford campus for your advanced flight training where you will experience the more challenging UK flying conditions prior to undertaking your Multi-Engine Instrument Rating (MEIR) along with Advanced Upset Prevention and Recovery Training (A-UPRT) which are the final live flying elements of the course before progressing to the next stage.
MEIR
53.5 training hours
Including Instrument Rating Skills Test
AUPRT
4 flight training hours (+5 training hours ground school)
Aircraft time: 27.5 hours
Sim time: 30.5 hours
Aircraft: DA42 & Slingsby Firefly (AUPRT)
Sim: DA42
Leading Edge, Oxford Campus
The ultimate phase of the course is the Airline Pilot Standards Multi-Crew Cooperation Course. It's conducted in our state of the art MPS Airbus A320 FTD-1 Simulator, and will be your first taste of flying as an airline pilot in Commercial Air Transport (CAT) operations. You'll learn to work as a flight crew, and learn how to fly a modern swept-wing jet airliner using recognised Standard Operating Procedures (SOPs).
25  hours (minimum) Theoretical Knowledge Instruction, including Airline Oriented Training
20 hours of briefing and de-briefing before and after simulator training sessions
40 hours of type-specific  flight simulator training, with a final assessment
Online access to all training materials and manuals
Use of self-study material, including an XR virtual cockpit and immersive 360 degree bite-size training videos
Graduate Employment Services
3-Day Course & Ongoing Support
Leading Edge, Oxford Campus
You're now a qualified Commercial pilot with an Instrument Rating and eligible to apply for First Officer positions. Our LEAP course includes comprehensive Graduate Employment Services to prepare and support you in landing that all important First Officer role.
The course is taught by a team who have a wealth of experience in pilot recruitment and held at our academy in Oxford. Our instructors will walk you through the assessment process, tailoring the workshop to your experience and ensuring you are ready for your first airline interview.
As part of our bespoke graduate services, the 3-day course will cover:
Airline applications
Maximising your first impression
Personal development plans
CV workshops
Cover letter creation
Interview techniques & mock interviews
Group exercise training
Got questions about becoming a pilot? Our friendly team are standing by help. Please complete this form and we'll get back to you shortly.