Intensive. Inclusive. Inspired. Prepare for takeoff with the fast-track Leading Edge Airline Preparation course; LEAP.
LEAP is a full-time, integrated pilot training programme, designed to deliver the most comprehensive airline pilot career preparation possible. With this course, no aspect of an all-inclusive pilot education is left out: ground and flight training is specialised, supportive and individually tailored for rapid progress; a far-reaching enrichment programme develops your personal and professional skills; you'll gain a BSc degree in Air Transport Management with Airline Pilot Training,  and will have access to a unique student wellbeing curriculum, too.
No previous experience is required, although we will assess your potential for success before you enrol. In 18 months, this ab-initio ('from the beginning') course will take you from no flying experience to airline-ready in every way.
LEAP in. It's all included.
One price. No surprises

.
Theoretical Knowledge training

 

Initial flight training

 

Advanced flight training

 

Upset Prevention Recovery 

Training

 

APS MCC Course

 

BSc Degree

 

Accommodation

 

Uniform

 

iPad

 

Padpilot ATPL ebooks

 

Training materials & flight bag

Question bank access

 

ATPL (A) qualifying exam fees

 

Flight test fees

 

Wellspace

 wellbeing services

Graduate employment services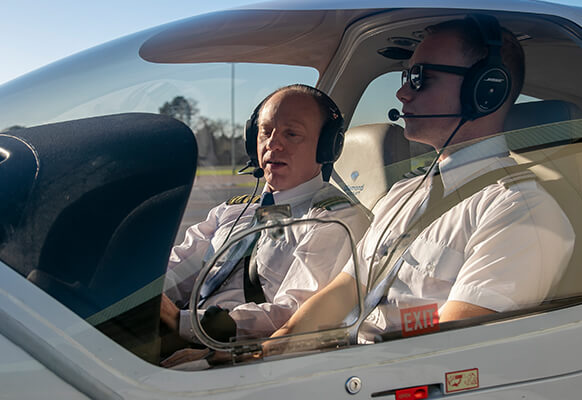 Before you start
Relevant Class 1 Medical
5 GCSEs (grade 4 +) or equivalent to include Maths, English Language & a Science
Skills Assessment
Computer based assessment
Interview
Group Exercise
Debrief
Successful completion of our Skills Assessment day means you're eligible to embark on the LEAP course with a Training Guarantee. The guarantee means any additional training or re-testing to reach the required standard is included in the course cost.
LEAP starts with an education in the ATPL(A) theoretical knowledge that will form the academic foundation of your future career.
We are very proud to be leading the way and are delivering the most up to date academic syllabus (e.g. ECQB2020) for the Regulatory Authorities to our students. This academic syllabus prepares students for life in the flight deck, relating the theory to the practical aspects of a career in aviation.
The 13 ATPL(A) subjects are covered over two separate modules of study, with CAA exams for those subjects being taken at the end of each module. The ATPL(A) exams are computer-based, and our students sit their exams at our own CAA approved examination centre.
Students also study KSA100 (Knowledge, Skills & Attitude) which helps to develop the softer skills that are a critical part of their future career and includes subjects such as CRM (Crew Resource Management) and TEM (Threat and Error Management).  This important element of the course will be continuously assessed throughout your training.
We provide our students with Padpilot digital learning materials accessed on an iPad so that you can always have all your ebooks with you.
13 subjects
Aircraft General Knowledge
Instrumentation
Meteorology
Human Performance & Limitations
Principles of Flight
Communications
Air Law
Flight Planning
Mass & Balance
Aeroplane Performance

General Navigation

Radio Navigation

Operational Procedures
2 modules
750 training hours (minimum)
26 progress checks
13 Qualifying exams
Foundation Flight Training
With ATPL ground school complete, you'll work towards achieving your Commercial Pilot Licence (CPL). All training is conducted from our London Oxford Airport site where our highly experienced instructors will take you through the early exercised to first solo and then onwards to your Commercial Pilots Licence in a multi-engine aircraft. All this will be acheived in a busy airspace environment. Our course is an ME CPL (multi-engine Commerical Pilots Licence), so you will initially fly our modern DA40 single-engine aircraft and progress onto our state-of-the-art DA42 multi-engine aircraft whilst utilising our up to date and fully approved DA42 simulator.
130.3 hours training hours
Commercial Pilot Licence Skills Test
Aircraft: DA40, DA42
Sim: AL42
Airline preparation continues with the Multi-Engine Instrument Rating (MEIR). You'll initially train in our DA42 simulator, where you develop your twin-engine aircraft skills and instrument scan. You'll learn how to fly in Instrument Meteorological Conditions (IMC) under to Instrument Flight Rules (IFR). The Advanced Upset Prevention and Recovery Training (AUPRT) phase is the final element of the live flying course before you progress to the next level.
MEIR
53.5 training hours
Including Instrument Rating Skills Test
AUPRT
4.5 flight training hours (+5 training hours ground school)
Aircraft time: 27.5 hours
Sim time: 30.5 hours
Aircraft: DA42 & Slingsby Firefly (AUPRT)
Sim: DA42
The ultimate phase of the course is the Airline Pilot Standards-Multi-Crew Cooperation Course. It's conducted in our state of the art MPS Airbus A320 FTD-1 Simulator, and will be your first taste of flying as an airline pilot in Commercial Air Transport (CAT) operations. You'll learn to work as a flight crew, and learn how to fly a modern swept-wing jet airliner using recognised Standard Operating Procedures (SOPs).
25  hours (minimum) Theoretical Knowledge Instruction, including Airline Oriented Training
20 hours of briefing and de-briefing before and after simulator training sessions
40 hours of type-specific  flight simulator training, with a final assessment
Online access to all training materials and manuals
Use of self-study material, including digital cockpits and immersive 360 degree bite-size training videos
You're now a qualified Commercial pilot with Instrument Rating, and qualified to apply for First Officer positions. The LEAP course includes comprehensive Graduate Employment Services to help you land that all important First Officer role. Our team have a wealth of experience in pilot recruitment at every level and will support you every step of the way.
Airline applications
CV Workshops
Mock interviews
Group exercise training
Got questions about becoming a pilot? Our friendly team are standing by help. Please complete this form and we'll get back to you shortly.