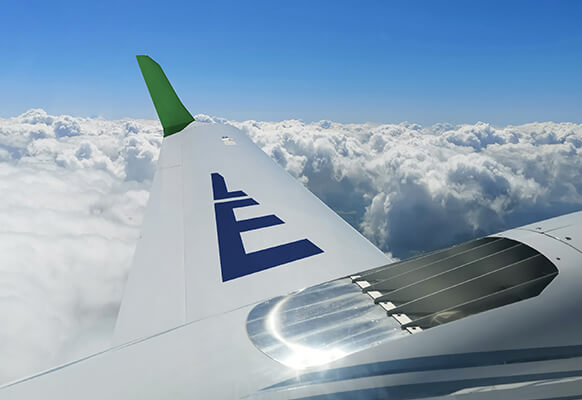 If you're considering becoming an airline pilot, you may be wondering what life will be like as a student pilot, and what knowledge and skills you'll gain during flight training.
Learning to fly can be intense and – if you're on our integrated LEAP course – it's fast too, so it's good to be prepared.
Explore the tabs below to discover what's in store at each stage of the journey to commercial qualification, and how to get the most from your course.
It's time. You've taken your first step towards a professional flying career and booked a Leading Edge Aviation Skills Assessment. This is where you find out if you have what it takes to become a pilot.
You're probably nervous, we understand that. Becoming a commercial pilot is a long-held dream for most candidates, so we expect you to feel a bit on edge. On the day, we'll do our best to help you feel at ease, but read on to learn about what your experience will entail, so you can prepare thoroughly and demonstrate your potential on the day.
 Ahead of your Assessment Day
Once you have confirmed your assessment date, our Skills Team will contact you and ask you to complete the CBT, computer-based testing from home. They'll take you through how to access the tests and guide you every step of the way. We suggest getting your mental maths up to speed beforehand and also recommend you read the Padpilot Maths and Physics for Pilots book, which is free to download. You can find details of CBT pilot aptitude tests (although not ours) online if you wish to practice this type of test. There may be a fee to take such tests.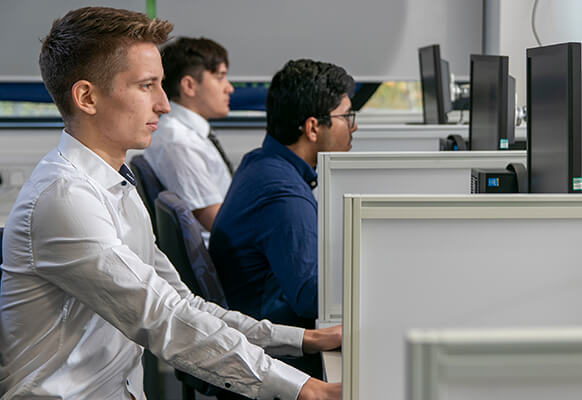 Computer-Based Testing (CBT)
The CBT will assess a variety of skills using our online tool, which could include some or all of the following:
Complex Control
Working Memory
Deductive Logical Reasoning
Monitoring Ability
Reaction Speed
Sense of Direction
Multi-Task Capability
Language Skills
Applied Numeracy
The Day
The Skills Assessment Day is usually a full day – most are completed at our Oxford Campus, but we do also host a number of virtual assessment days.
You will complete a group exercise, Maths & Physics tests and a competency-based interview. At the end of the day, you will receive a thorough debrief of your performance, regardless of the outcome. Feedback is given on your scores, successes and areas for development. We will always be honest, candid and supportive. If you've been unsuccessful, retesting at a later time may be suggested and practical suggestions are given.
Interview
This will be a formal interview conducted by our assessors. You will be asked questions that help you demonstrate both your motivation and your competencies. We will look for evidence that you understand the role of an airline pilot, what you have done to prepare for an aviation career, your knowledge of the industry and what you know about the training path ahead. You will be asked some competency-based questions where the assessors look at skills and qualities such as team working, leadership and decision making.  You will need to give examples of skills that you've demonstrated in the past which transfer to the flight deck environment and which show your potential to become an airline captain. When planning for your interview, remember that you probably have more experience than you think, from activities such as school, clubs such as the Air Cadets, team sports – it doesn't have to come from a job.
We recommend you research interview techniques, especially the STARR method. This will help you structure your answers; keeping to the point and making time to communicate the evidence needed to answer a question well. You'll need to prepare some strong examples of when you've used specific skills. Begin practising your interview technique with friends and family ahead of your assessment day.
Group Exercise
A group exercise will be conducted in a small group with one or more assessors observing. We'll look at your team working skills, leadership skills, and how you communicate, along with other qualities such as resilience and problem-solving.
There is a wealth of information online about group exercises that will help you demonstrate your capabilities in a group environment. Take time to digest this information and become aware of how you operate in team settings.
Personal Presentation
It is essential that you look the part as it's hard to change first impressions. Present yourself at your Skills Assessment Day as you would for an interview with your dream airline, remembering that you're being assessed from the very first point of contact even if you are attending a virtual assessment!
Plan Ahead
Finally, plan your journey.  You could consider staying in the area the night before to reduce any stress on the day. Nerves are normal, but good preparation for each element of your Skills Assessment will help you feel confident and a little more relaxed on the day.
We look forward to meeting you.
You've passed your Skills Assessment and enrolled on a Leading Edge pilot training course. Congratulations! Your journey to the right hand seat has begun.
So now you're on your way to becoming an airline pilot, you may be wondering what to expect during your course. Pilot training can be intense, and if you're on our LEAP course, it's fast too, so it's good to be prepared.
Whether you're a LEAP student or are joining us a Modular student with a Private Pilot Licence, the first part of commercial pilot training at Leading Edge is known as 'Ground School.'
This blog explains what you can expect during ATPL Ground School and how to get the most out of this phase of pilot training.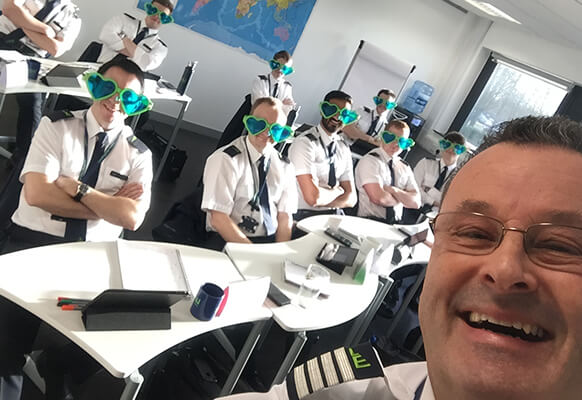 What is ATPL Ground School?
ATPL Ground School is the classroom part of pilot training. You'll spend approximately six months studying the theoretical knowledge required for the Airline Transport Pilot Licence (ATPL).
This aviation theory covers a range of subjects as diverse as Air Law, Flight Planning and Human Performance. This knowledge will underpin your flight training and subsequent career.
You must pass CAA exams in all 13 ATPL subjects (and your observed KSA100 assessment) within 18 months of sitting your first exam in order to gain an ATPL licence. The CAA exam pass-mark is 75%.
What happens during Ground School
During ground school, you'll be in the classroom with our experienced instructors. There is a considerable amount of information to get through, so approach the ATPL theory stage with as much determination and commitment as if it were your GCSEs, A levels or even a degree!
Our class sizes are modest, and we encourage interaction, so don't be afraid to speak up, ask questions and get involved in lessons. You learn faster that way. Our instructors are passionate about their subjects and will help you every step of the way.
After a day in the classroom, you also should plan on doing one or two hours of work every evening. Go through the day's notes, practice calculations and create revision cards. It may sound like a lot of work, but the pace of ground school is fast, so you'll be setting yourself up for success if you consolidate as you go. All that hard work and focus will be worth it when you achieve 13 first time, high score exam passes!
ATPL theory subjects
You'll study 13 subjects, in three modules, with regulatory EASA exams at the end of each module. We use Padpilot ATPL theory so your content is easy to access. Read more about our Ground School course and syllabus.
Wellbeing
While working hard on your ATPL theoretical knowledge, we believe it's essential to look after your health and wellbeing too. Ground school requires long periods of concentration, and the flight training phase of your course will also be challenging. Once you've graduated and are flying professionally as an airline pilot, you may experience jet lag, time away from home, and unsocial working hours. For this reason, our LEAP training course helps you develop a toolkit of healthy habits now that will stand you in good stead for your future on the flight deck too.
Students on our integrated LEAP course receive an interactive wellness app that syncs with your wearable device. Plus, every other month, you'll have a seminar from our partners, Wellspace, on subjects such as coping with stress, sleeping well, nutrition, biomechanics, and self-confidence. Each topic is designed to benefit during training, and also help you prepare for your future career too. One to one support from Wellspace's team of coaches, behaviour experts and medical practitioners will also be available, should you wish to make use of it.
A typical day
ATPL Ground School days are typically Monday to Friday, 08:30 to 16:50 in the classroom, with regular breaks. Each day you'll receive around 6 hours of teaching with our expert instructors, plus one hour of workbook consolidation. There will also be occasional classes on Saturdays.
How to prepare
We recommend brushing up on your basic maths and physics knowledge before ATPL ground school and suggest the Padpilot Maths and Physics for Pilots book, which is free to download.
What next?
If you'd like to find out more about ATPL ground school, or how Leading Edge can help you become an airline pilot, please join us for an Open Day where you can see our academy at work. Or send us a message, and one of our team will get back to you.
When you are at the flying phase of your training, you day will begin to look very different to that of a Ground School student, but it's not all flying. An important aspect of this phase of training is the planning and preparation required for every flight, and of course the debrief after your return. Your instructor will support and guide you in the planning process, but the responsibility for ensuring you complete those all important pre-flight checks lies with you.
You'll plan your time around your scheduled flights, so your day may look similar to the life of a short haul pilot. A typical 24-hour period flying from London Oxford airport might look something like this:"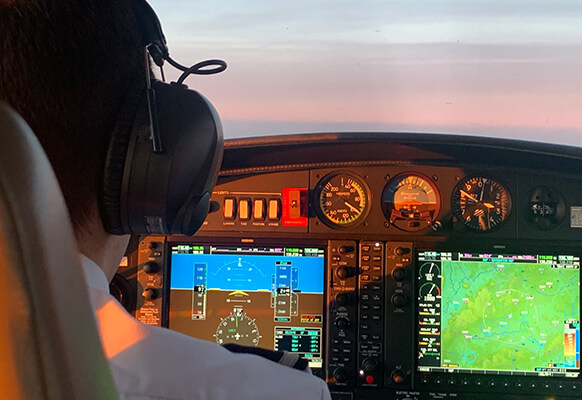 17:00 Thursday Evening
I am in the academy for a briefing about my flight tomorrow. Tomorrow the flight I will be completing is a Dual Navigational land away flight to Cranfield. The briefing is with my primary instructor and lasts approximately an hour, it covers the techniques I will need to plan my flight and gives me an opportunity to ask my instructor anything I'm not sure on.
18:30
I return home, have some dinner, have a brief look at the weather and my charts for the flight tomorrow so I have a rough idea in the morning what to expect. I then spend the rest of the evening chatting with my course mates, watch some TV and get an early night so I can be prepared and well rested for my flight tomorrow.
12:30 Friday (Flight Day!)
After going to the gym in the morning and lunch at home, I arrive at the academy. I catch up with my friends, have a coffee and find myself a space in Operations to plan my flight which takes off at 15:30. I spend the next hour and a half reviewing the weather and planning my flight – plotting the route on the chart, completing a Flight Log, completing Mass and Balance and Performance, and reviewing the techniques I will be using today. At this point after reviewing the weather I am happy the weather is forecast to be suitable for the remainder of the day, with no cloud or precipitation and minimal wind forecast. I will however, keep an eye out in case this changes. Today's flight should take approximately 1 hour each way.
14:00
I then speak to Operations as the aircraft I will be flying has been flown by another student already today. I review the Aircraft Documents, speak to the Operations team to request fuel and verify the aircraft is ready, in preparation for our flight.
14:30
I sit down with my Instructor an hour before my flight, who reviews the planning I have completed, checks the Aircraft Mass & Balance/ Performance and together we both review the most current weather, to ensure it is still viable to complete the lesson objectives and comply with Visual Flight Rules. My Instructor answers any last questions I have and at approximately 15:00 we head to the aircraft to give us ample time to take off for 15:30.
15:30
Take off! We depart from Oxford on time at 15:30 exactly, make a note of the take off time and begin the lesson. Throughout the lesson I use the newfound navigational skills, with my instructor giving helpful tips and tricks and assisting where necessary.
16:30
We land at Cranfield, taxi to parking, and get out to stretch our legs. We have coffee and cake at the café while the aircraft is refuelled, and I use this time to chat with my instructor about where I could have improved on my first leg to Cranfield, in preparation for the flight back.
17:15
We take off and return to London Oxford Airport. Because of the wind pushing us along on the way back, this leg will only take 45 minutes!
18:00
We land at Oxford, taxi to our stand, update the tech log and leave the aircraft with Operations who ensure the aircraft is prepared for the next flight. We head inside and have a 15 minute debrief where we talk about what went well and things to improve. My instructor will then type up a detailed debrief for me to review before our next flight.
18:45
I return home, eat some dinner and then spend another 20 minutes reading the detailed debrief from my instructor on our Flight Management System. I have the rest of the evening off and, as it is also my day off tomorrow, I have a couple of drinks and watch a film with a few of my housemates before heading to bed, overall an action-packed, busy day!
Advanced Upset Prevention and Recovery Training

 
One of the final stages of your pilot training is Advanced Upset Prevention and Recovery Training (AUPRT).

In December 2019, Upset Prevention and Recovery Training (UPRT) became a CAA requirement. For student pilots, this means having to pass a short UPRT course as part of your commercial training.

At Leading Edge, we've always recognised the importance of upset prevention and recovery as part of flight training so our in-house, CAA approved, Advanced UPRT course has been specially designed to give both LEAP and modular student pilots the ultimate introduction to UPRT.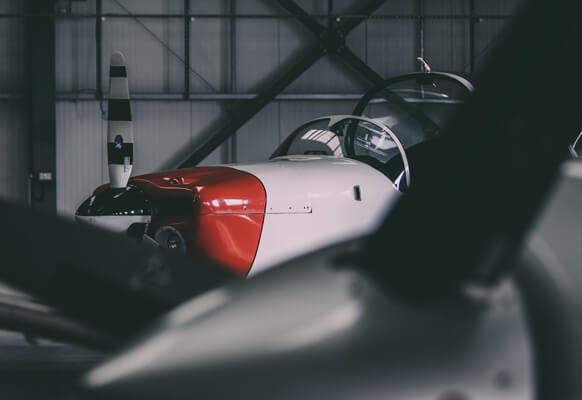 What happens during AUPRT?
AUPRT is a short, intensive course that teaches you how to prevent and recover from situations in which an aeroplane 'unintentionally exceeds the parameters for line operation or training' (aeroplane upsets).
With specialist instructors, students receive 5 hours of theoretical teaching, pre and post flight briefings and de-briefs, and 3 hours of dual airborne flight instruction. You'll learn how to recognise and confirm the upset situation, manage your stress response, apply the recovery strategy, remain within the training envelope and stabilise the flight path after recovery. By the end of the course, you will be competent and confident in recovering from upsets.
This course is a lot of fun! It will also be challenging as you build your personal resilience, and sometimes tiring as you experience G forces in flight. UPRT is an important course and a skill set you'll continue to develop as part your ongoing professional training.
What aircraft will I fly?
You'll fly the Leading Edge T67M-200 Firefly, a two-seat training aircraft built originally for the Royal Hong Kong Auxiliary Airforce and used for aerobatics and flight training. It has a full suite of IFR avionics and is perfect for this kind of flying.
How to prepare for AUPRT
You'll need your headset, and as always, an open mind and eagerness to learn. We expect you to already be familiar with the ATPL theory needed and we'll just be revisiting certain sections that are directly relevant to upset prevention and recovery training in the classroom sessions.
A typical day 
You may have seen photos of the Slingsby Firefly on our social media accounts but what exactly does the AUPRT course entail?
One of our students has recorded a AUPRT diary to keep you in the loop…
08:30 Wednesday morning: Ground school kicked off today!
Today I leave our accommodation (The Arc) to head into the academy for our ground school. I meet our AUPRT instructor and we discuss what we are going to cover today. The ground school course should take around 5 hours and we cover Aerodynamics, Stalling, Stall warning and protections, Spinning, Meteorology and Human Factors! With no time to waste we jump straight into it.
09:30 Thursday morning: Briefing my first AUPRT flight!
I am in the centre preparing for my first AUPRT flight. My course mates and I meet our instructor who briefs us on the lesson we are going to do today- an introduction to the aircraft, increasing our G tolerance and stalling. I am flying second today, so another cadet leaves to go flying while I make myself some breakfast and review the weather for our flight.
12:30 Thursday morning: Time to go flying!
My instructor is back with the cadet who is looking a bit pale! Turns out after one of the G tolerance exercises, he did not feel great, so they decided to return to the airport but unfortunately they didn't make it in time. At least we have some great Go Pro footage of the sick bags in the Firefly being put to good use! It can be a natural response to the G forces to start to feel a bit sick, so we did expect at least one of us to feel a bit ill after one of the flights; but for now, it's my turn to go flying!
We walk out to the aircraft and, while my instructor is checking the aircraft over, I put on my parachute. Having checked my parachute is on correctly we both get into the aircraft and taxi out to the runway. The instructor does todays take-off so that I can get used to controlling the throttle with my left hand and the control stick with my right (which is the reverse of what we do in the DA40/42!) We fly out towards Moreton-On-Marsh (an area near to Oxford Airport that is good for general handling) where I am then taught me how to complete a loop and a barrel roll in order for me to build up my G tolerance – this was amazing!! We then completed several exercises such as steep turns (this time at 60 degrees), spiral dives, abnormally slow flight with recovery and then a series of stalls. Before I know it my hour and a half lesson is up and we are returning back to Oxford to land (with one more loop to build up my G tolerance a bit more of course…)
08:00 Friday morning: Spinning time!
After spending the previous evening revising for today's lesson, I am excited to experience my first spin. We brief and head out to the aircraft, don our parachutes and get going! Heading over towards Moreton again we recap yesterday's stall exercises before recovering from an accelerated stall. We then run through a series of incipient spins where I learn how to recognise the onset of a spin and recover before it fully develops. We then go onto full spins! Today, we allow the aircraft to do two complete turns in the spin before recovering- it is a very strange experience!! After recovering from several spins (and with my head positively spinning) we had completed all of the exercise aims and sadly it was time to return to Oxford.
10:00 Saturday morning: Last lesson of AUPRT – Upsets!
I am back in the centre today for my last AUPRT lesson which is all about dealing with upset situations and using the skills we learnt in the previous two lessons to recover from any upset situation. Once again, we brief and head out to the aircraft with our parachutes. I get to take off today so we depart and I fly us out towards Moreton before my instructor puts the aircraft into various upsets and I recover from them. We cover nose high and nose low recoveries and my instructor also demonstrates the startle effect. Sadly, an hour and a half went by super quickly and it is time for us to return to base.
We land, debrief the flight and that's it! After over 5 hours of ground school and around 4.5 hours in the air, I have completed my Advanced Upset Prevention and Recovery Training and now it's time to move onto the APS MCC!
The next step
To find out more about completing the AUPRT course at Leading Edge, or to chat about becoming a commercial pilot, please send us a message, and one of our team will get back to you.