Advanced training technology for tomorrow's pilots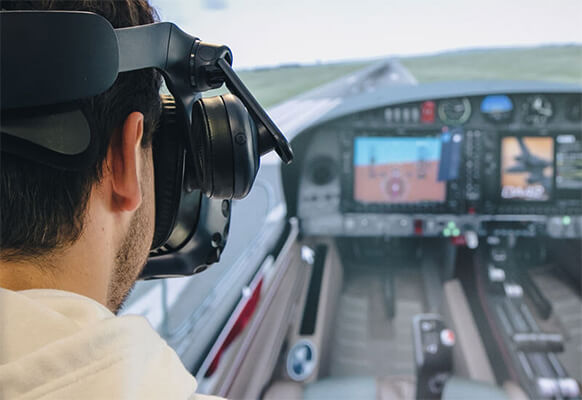 Learning to fly safely and accurately is one of the most important, complex skills you'll ever learn. It's a serious business. But that's not to say it isn't also exciting. We believe pilot training should be interactive, fun – and absolutely cutting edge. So we bring the latest training technology into our courses. As a Leading Edge student, you'll benefit from simulator time, mixed reality tech aids, and the latest neuro training to enhance cognitive abilities relevant to learning and aviation.
Explore our advanced training technology:
Diamond Aircraft DA42
Our newest simulator, which came direct from Diamond Aircraft is located at our dedicated Simulator facility, Hangar 18 – close to the academy. 
It's an exact replica of the Diamond DA42, the twin-engined aircraft you'll fly in. It's fixed-base,  and Diamond flight simulators are built with authentic aircraft parts, with real avionics, high-end visuals and OEM flight dynamic models for fidelity that is simply unsurpassed. The instrument panel is fitted with the Garmin G1000 NXi avionics suite and standby instruments, allowing you to train in a completely realistic environment. The simulator is at the cutting edge of the industry, meaning you'll receive the most sophisticated sim training in preparation for advanced flight training.
ALSIM Diamond DA42
The ALSIM AL42 simulator is located at our Sim Centre at Glenmore Business Park, close to the academy.
It's fixed-base, built using genuine aircraft parts and is also equipped with the latest Garmin G1000NXi avionics suite. It also comes with the latest generation visual system, GFC 700 autopilot and PBN/LPV capabilities.
Airbus A320
For the final phase of your course, the three week APS MCC (Airline Pilot Standard Multi-Crew Cooperation), you will complete your training in our new MPS Airbus A320 FTD-1 simulator. The Airbus simulator is an immersive training experience that will help you prepare for your future career in aviation.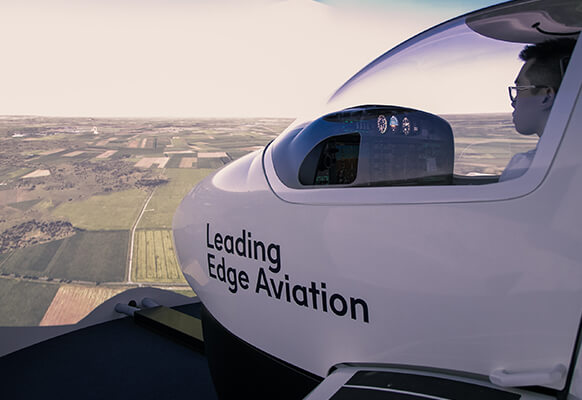 Our Virtual Learning Environment makes studying easy. It's a learning management system called Moodle, used by top institutions like Oxford University. Think of it as your online pilot training library. In the VLE you'll find study content for ground school and briefings for flight training, as well as reference guides and question banks. Student policies, admin and course documents are also hosted there. So, everything you'll need while training with us is easy to find and accessible from wherever you are.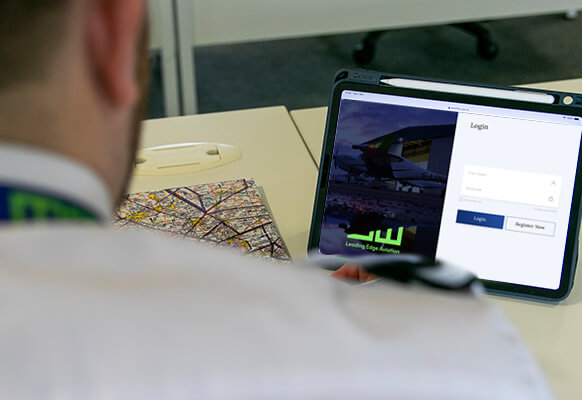 Learning how to a fly is a demanding process.  Your brain must process information from multiple sources, while executing new, compound skills.
To help refine and enhance this learning process, we've introduced the Neurotracker©,  a sophisticated cognitive training tool. It's designed to improve your cognitive abilities and allow our instructors to give you a highly personalised training plan. It's also a lot of fun. With this innovative tool, unique to Leading Edge in the UK, you'll benefit from accelerated learning and optimised training sequences to help you develop your skills faster.