Advanced training technology for tomorrow's pilots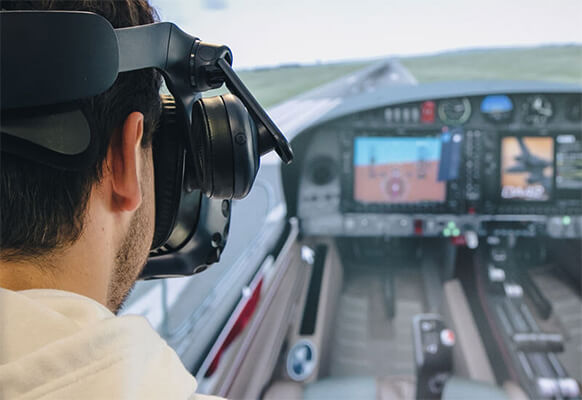 Learning to fly safely and accurately is one of the most important, complex skills you'll ever learn. It's a serious business. But that's not to say it isn't also exciting. We believe pilot training should be interactive, fun – and absolutely cutting edge. So we bring the latest training technology into our courses. As a Leading Edge student, you'll benefit from simulator time, VR, and the latest neuro training to enhance cognitive abilities relevant to learning and aviation.
Explore our advanced training technology:
Virtual Learning Environment
Our Virtual Learning Environment makes studying easy. It's a learning management system called Moodle, used widely within Higher Education by top institutions such as MIT and the Open University.  
The VLE will be accessible for any prospective students, they will have access to a vast number of tools that will guide them on the things they can do prior to joining us on an assessment day. Therefore, this will help them better prepare for their assessment and will give them a higher chance at being successful. 
Any candidates that are successful in our assessment and choose to join Leading Edge will be granted access to the pre reading material for groundschool. This will allow them to get to grips with some of the content before commencing training with us so that they have the best chance to familiarise themselves on the platform and start pre-course studies so that they can hit the ground running from day one.  
Finally, in the VLE you'll find study content for ground school and briefings for flight training, as well as reference guides and question banks. Student policies, admin and course documents are also hosted there. This tool will therefore allow you to access everything you'll need while training with us in one easy to find and accessible source from wherever you are.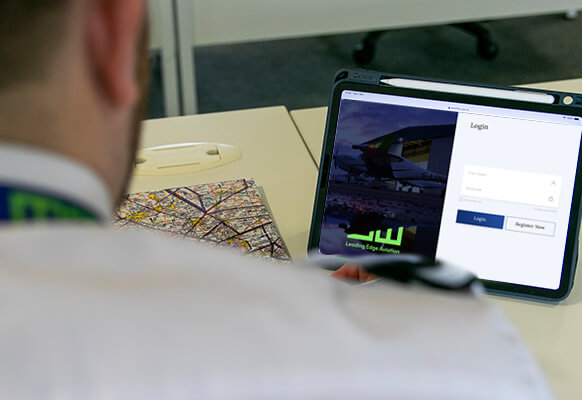 Neurotracker X
Learning how to a fly is a demanding process.
Your brain must process information from multiple sources, while executing new, compound skills all while managing it in a time pressured environment.
To help refine and enhance this learning process, we've introduced Neurotracker X,
a sophisticated cognitive training tool. It's designed to improve your cognitive abilities and allow our instructors to give you a highly personalised training plan. It's also a lot of fun. With this innovative tool, unique to Leading Edge in the UK, you'll benefit from accelerated learning and optimised training sequences to help you develop your skills faster. 
The tool itself has been developed through decades of scientific research at the Faubert Lab and is used by the US Air Force, the RAAF, the LA Lakers and Manchester United to name a few. NTX is the most scientifically validated cognitive technology in the world and allows pilots to enhance their mental systems and cognitive load capacity, as well as helping them manage the demands of a condensed learning curriculum. In the aviation industry there is very little room for error and by using NTX you'll have a competitive edge.
We have previously used NTX with our groundschool students and are now going to start implementing NTX technology into our flight training phase too.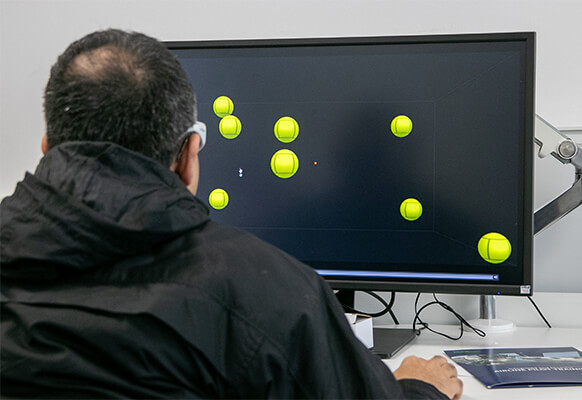 SIMiONIC have created two Garmin G1000 applications, these are a great training device that helps the students learn how to program their flight plans and several other features on the G1000. As a training tool, we've downloaded the applications onto two iPads encased in a G1000 shell so that the students can train on the ground in a like for like tool. 
By having this trainer, the students will be able to optimise their lesson time. Having practiced outside of the aircraft they'll be confident in utilising the software and can focus on the flying aspect when in the aircraft.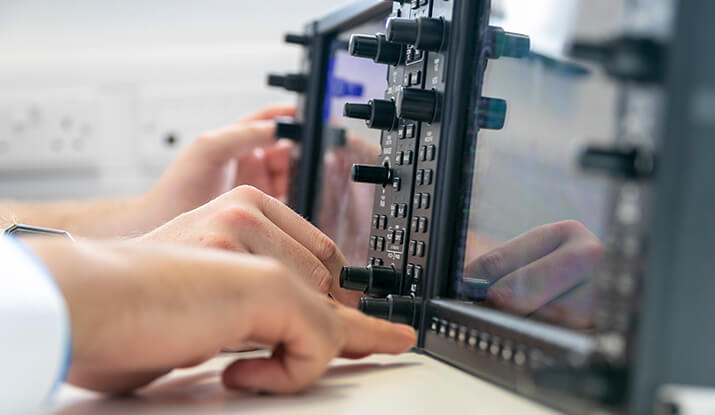 v360
V360 is an online software currently provided to our students to aid them in the pre course study for the APS MCC and to aid them in the familiarisation of the DA40 and DA42. 
For the DA40 and DA42, the V360 enables them to go over their normal checklists and procedures, in addition they can also look over emergency procedures so that they are familiar with the actions they must take in the aircraft. 
For the APS MCC, it takes them on a step-by-step guide of all the checks required on the A320 and this can be combined with a test. It gives the student a better understanding as to what each pilot is doing, what action they're doing and why that is being done. This is a great tool as it elevates the students' knowledge of the aircraft to above the required level for an APS MCC.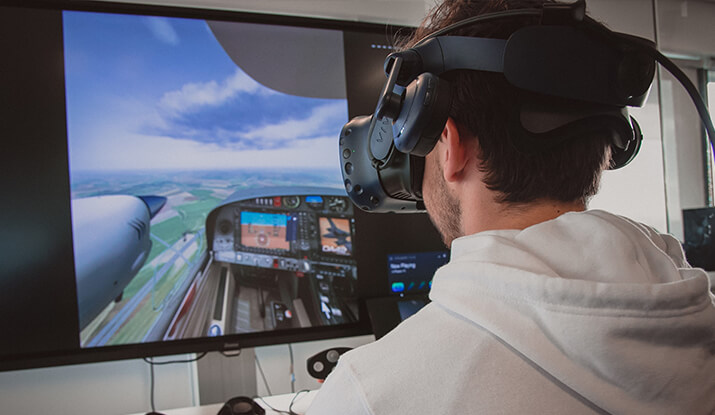 Virtual Reality
In collaboration with Playko Software, we have developed a Virtual Reality A320 Cockpit Flow Trainer. The VR Flow Trainer, which replaces the need for conventional cardboard cockpit cut-outs, has recently won the Augmented Reality experience of the year at the 2021 WebXR Awards, The Polys.
Upon commencing the APS MCC course, students will be issued a loaned Meta Oculus Quest 2 headset as part of their pre-course study. This will allow them to have sufficient time to familiarise themselves with the many procedures for flight deck preparation of the Airbus cockpit before even setting foot in the simulator.
The developed software allows students to follow a step-by-step guide to learn their flows and it also has the capability to engage a 'test' function, so that you can target areas you may be lacking in and focus on improving them.