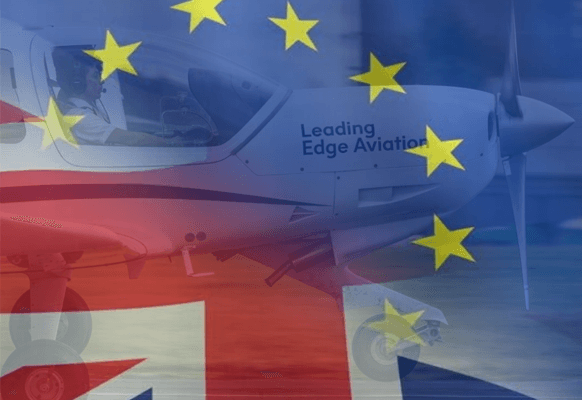 When attaining your flight crew licence post Brexit, the discussion of do I want a UK CAA or a Dual UK CAA & EASA licence is an important one.
Leading Edge Aviation are approved with both the UK CAA & EASA to deliver Flight Training and can offer you either the chance to attain a UK CAA licence, or the chance to maximise your employment opportunities and hold both.
Explore the tabs below to answer some frequently asked questions.
UK CAA or Dual UK CAA & EASA?
Training to become a pilot before Brexit meant that all UK and EU Pilot licences were issued under the authority of the European Aviation Safety Agency (EASA), and this allowed UK licence holders to fly for UK and European airlines – an EASA Licence allowed a pilot to operate any EASA registered aircraft.
However, after Brexit, there were a number of challenges that arose with licensing. On 1st January 2021 all UK issued EASA licences (unless previously transferred to another member State) became a UK only licence without any EASA privileges and the UK Civil Aviation Authority became the sole Authority. A UK issued licence allows a pilot to operate UK registered aircraft (sometimes referred to as 'G-Reg' aircraft). EASA now only recognises UK issued licences in the same way that they recognise any other 'Third Country' licence eg FAA (United States Federal Aviation Administration) or the Australian equivalent etc.
We do appreciate that in 2021, it can be difficult to navigate complex UK & European licensing regulations to work out what is the best option for you, and it is ultimately a personal preference and should factor in your right to live and work within the EU.
To help make a decision, we recommend asking yourself 'where do I want to be in the next 3-5 years?'.
A large proportion of our students currently in training have UK issued medicals and are aiming to achieve an UK licence. This, we believe, with current visa and settlement rights will offer more options as European airlines, based on the continent may require the right to live and work in the country, without sponsorship.
Leading Edge Aviation are approved by both the UK CAA and EASA to conduct flight training for professional licences and, therefore, we can complete your training for either the UK Authority – or both at the same time, whichever path the student chooses!  It is important to emphasise that it is the student's choice who they wish to have their licence issued by, but this might mean that there are other regulations to follow (each of the 26 EASA States do not necessarily follow the exact same rules) but we can advise you on that on a case by case basis.
During your professional flight training, it is necessary to take an Instrument Rating Skill Test (IR).  For those who wish to have a dual UK CAA & EASA licence issued, a period of acclimatisation flying (which is included within our standard Flight Training Syllabus) within an EU State needs to be flown as well as the IR.
The IR Skill Test can therefore be taken in an EU member state with just a short transit flight there and back.
Students joining us in the future will have the option to choose the pathway right for them – a UK issued CAA licence, or a dual UK CAA & EASA licence.
Medicals
Students that enrol on our LEAP integrated training programme at Leading Edge Aviation, and who choose the 'dual' path, will require both a CAA and EASA Class 1 medical certificate.  Those requiring the single UK licensing path will only need to obtain the Class 1 medical the UK CAA.
Initial Class 1 medicals need to be issued by an approved Aeromedical Centre (AeMC) and, for those requiring the dual path, these can usually be done at the same time provided the AeMC is approved to conduct both.  Centreline Aviation Medical Services are one of the few, if not the only, UK Aeromedical Centres to be approved to do both, and they are based in London with branches near Gatwick also.
Integrated LEAP students
Students enrolled on our LEAP Programme, will have the opportunity to train for a 'dual licence' at a small additional cost of £5,000 to cover the additional examinations (including the two sets of 13 theoretical ATPL exams for both UK CAA and EASA), acclimatisation training and testing requirements.  To make this possible the student will need to have both medicals as stated above and also complete two sets of ATPL exams, as well complete a second IR Skill Test.
Holding a dual licence should ensure maximum future employability in the UK and Europe –  so graduate pilot can consider roles with UK-based airlines such as British Airways, easyJet UK, Wizz Air UK, Tui, SaxonAir (to name a few), as well as those major European operators such as Ryanair, easyJet, Wizz Air, or Air France and many more.
Still unsure?
If you are unsure which is the best option for you, our training team would be more than happy to discuss this with you.  Please be sure to discuss any questions you may have with our experienced training team!
Some ATOs have opted to only secure a training approval certificate with the UK or EASA.  Consider first whether you are content with the career options that this gives before you enrol.  Without any mutual recognition between the UK and EU (EASA), which may happen in the future, your training may incur additional costs and duration.
Modular students who have already started their training will need to consider the options relevant to them. Again, our training team can help you work through the options and choose the path that's best for you.
Got questions about becoming a pilot? Our friendly team are standing by help. Please complete this form and we'll get back to you shortly.
Advanced Upset Prevention and Recovery Training

 
One of the final stages of your pilot training is Advanced Upset Prevention and Recovery Training (AUPRT).
In December 2019, Upset Prevention and Recovery Training (UPRT) became a CAA requirement. For student pilots, this means having to pass a short UPRT course as part of your commercial training.
At Leading Edge, we've always recognised the importance of upset prevention and recovery as part of flight training so our in-house, CAA approved, Advanced UPRT course has been specially designed to give both LEAP and modular student pilots the ultimate introduction to UPRT.
What happens during AUPRT?
AUPRT is a short, intensive course that teaches you how to prevent and recover from situations in which an aeroplane 'unintentionally exceeds the parameters for line operation or training' (aeroplane upsets).
With specialist instructors, students receive 5 hours of theoretical teaching, pre and post flight briefings and de-briefs, and 3 hours of dual airborne flight instruction. You'll learn how to recognise and confirm the upset situation, manage your stress response, apply the recovery strategy, remain within the training envelope and stabilise the flight path after recovery. By the end of the course, you will be competent and confident in recovering from upsets.
This course is a lot of fun! It will also be challenging as you build your personal resilience, and sometimes tiring as you experience G forces in flight. UPRT an important course and a skill set you'll continue to develop as part your ongoing professional training.
What aircraft will I fly?
You'll fly the Leading Edge T67M-200 Firefly, a two-seat training aircraft built originally for the Royal Hong Kong Auxiliary Airforce and used for aerobatics and flight training. It has a full suite of IFR avionics and is perfect for this kind of flying.
How to prepare for AUPRT
You'll need your headset, and as always, an open mind and eagerness to learn. We expect you to already be familiar with the ATPL theory needed and we'll just be revisiting certain sections that are directly relevant to upset prevention and recovery training in the classroom sessions.
A typical day 
You may have seen photos of the Slingsby Firefly on our social media accounts but what exactly does the AUPRT course entail?
One of our students has recorded a AUPRT diary to keep you in the loop…
0830 Wednesday. Ground school.
"Today I'm at my accommodation (Westminster Halls) using Microsoft Teams to participate in the first day of AUPRT ground school. Due to Covid we are learning online wherever practical, so I log on and meet our instructor, Andy Cubin. The ground school part of the AUPRT course takes around 5 hours and covers Aerodynamics, Stalling, Stall warning and protections, Spinning, Meteorology and Human Factors. With no time to waste, we jump straight in.
0930 Thursday. Flight briefing.
I'm in the centre preparing for my first UPRT flight. Andy briefs us on the lesson we are going to do today: an introduction to the aircraft, increasing our G tolerance and stalling. I'm flying second, so Andy and the first student leave and I make breakfast and review the weather for our flight.
1230 Time to fly.
Andy is back with the first student, who's looking a bit pale. He didn't feel well after one of the G tolerance exercises, so they returned early. Andy reassures us it's a natural first response to the G forces to feel nauseous, and now it's my turn to go flying.
We walk out to the aircraft and while Andy is checking the aircraft over, I put on my parachute. Having checked the parachute is on correctly we taxi out to the runway. Andy does today's take-off so I can get used to controlling the throttle with my left hand and the control stick with my right, which is the reverse of what we do in the DA40/42. We fly out towards Moreton-On-Marsh (an area near Oxford Airport, good for general handling) where Andy shows me how to complete a loop and barrel roll in order to build up my tolerance to G. This was amazing! We complete several exercises such as steep turns (at 60 degrees), spiral dives, abnormally slow flight with recovery and then a series of stalls. Before I know it, my hour and a half lesson is up and we return to Oxford (with one more loop to build up my G tolerance a bit more, of course…).
0800 Friday. Spinning.
I spent last night revising for today's lesson and I'm excited to experience my first spin. We brief and head out to the aircraft, don our parachutes and get going. Heading over towards Moreton again we recap yesterday's stall exercises before recovering from an accelerated stall. We run through a series of incipient spins where I learn how to recognise the onset of a spin and recover before it fully develops. Then we then go onto full spins. In the AUPRT course, we allow the aircraft to do two complete turns in the spin before recovering – it's a very strange experience! After recovering from several spins (and with my head now spinning too) all of the exercise aims are complete, and sadly, it's time to return to Oxford.
1000 Saturday. Upsets.
I'm back at the academy today for my last AUPRT lesson which covers dealing with upset situations and using my newly acquired skills to recover from any upset situation. We brief and head out to the aircraft with our parachutes. Today I do the take off and fly us out towards Moreton before Andy puts the aircraft into various upsets and I recover from them. We cover nose high and nose low recoveries, and Andy also demonstrates the startle effect. Sadly, the hour and half lesson passes incredibly quickly, and it's time to return to base.
We land, debrief the flight and that's it. After over 5 hours of ground school and 4.5 hours in the air, I've completed my Advanced Upset Prevention and Recovery training! Now it's time to move on to the APS MCC."
The next step
To find out more about completing the AUPRT course at Leading Edge, or to chat about becoming a commercial pilot, please send us a message, and one of our team will get back to you.