Our students are at the heart of everything we do. We work hard to ensure they have an amazing experience with us and love it when they take the time to give us feedback on their time at Leading Edge Aviation! Here are just a few quotes from some of our students past and present.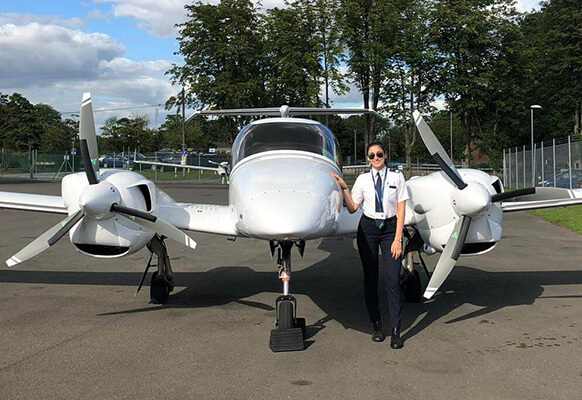 "I just wanted to say a huge thank you again to everyone at Leading Edge for the training as it was second to none and I couldn't have done it without you all!"
Clementine H, Graduate
"Training with Leading Edge has given me some of the best and most memorable experiences of my life. I've learned so much and the training process has really developed my confidence! I'll take forward with me a true passion for flying and a whole lot of gratitude for the people and support that made such a journey possible. Cheers"
Megan B, Graduate
"The quality of instructing at Leading Edge Aviation has been outstanding, in particular my instructors Anne and Justin, and the team of instructors on the APS MCC course. Some personal highlights of my training include my Qualifying Cross Country flight and the three week APS MCC course on LE's state of the art A320 simulator.
The enthusiasm for flying and excellence at Leading Edge is infectious, encouraging us to work-hard and stand out from the rest. This ethos goes beyond flying; Graduate Services, offered to students at the end of training gave me an invaluable insight into the preparation required to be the best candidate for airline roles and was led by two aviation recruitment experts with a wealth of experience in the industry.
Throughout my flight training with Leading Edge I've not only learnt a great deal about aviation and what it takes to be a pilot but also the importance of resilience and self-belief, something which I'll carry with me throughout my career"
Grace M, Graduate
"I hope you and the team know how much we appreciate you all! Couldn't be in a better flight school! Everyone is so keen to get through ground school and get to the flying phase, but I tell you something, those flight instructors have some high expectations to meet and some big shoes to fill."
Paul H, Student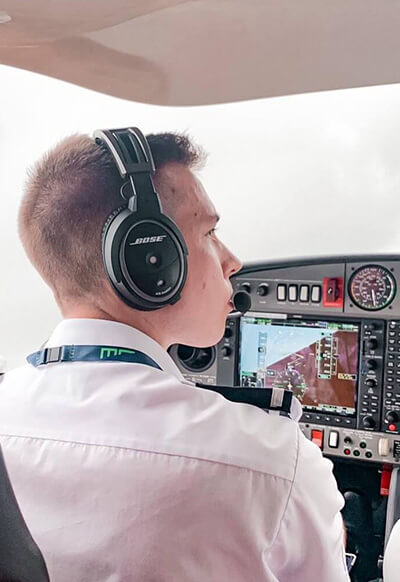 "I joined Leading Edge's Modular CPL/MEIR with APS-MCC course after completing my ATPLs at another ATO. I've been flying privately for around 10 years and Leading Edge stood out not only during my training but also before as an extremely professional and well organised ATO, one of the best I've been around. I thoroughly enjoyed all aspects of my training here and the quality of instruction was superb in each section of the course. The support given by peers and fellow cadets was invaluable not only at the time but I know that it will also stand me well throughout my professional flying career. I can safely say that my time at Leading Edge has provided my with lifelong skills, fantastic memories and lifelong friends in both, my course mates and also instructors. Thank you for everything Leading Edge!"
Ross H, Graduate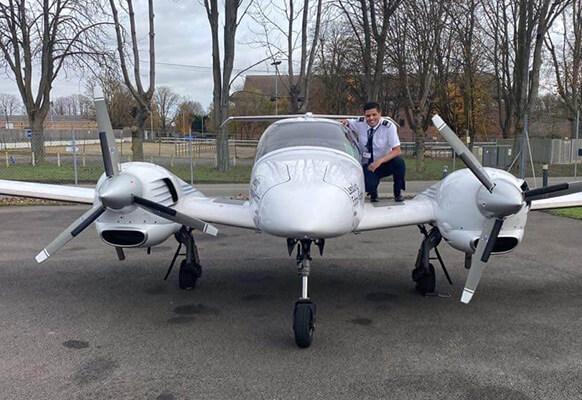 "Joining Leading Edge back in 2019 seems like a lifetime ago however, I have continued to be impressed with all their efforts in getting me through training during such a challenging year. Not only did they provide me with a great quality of training, but also a positive atmosphere to work in whilst going above and beyond to help me with my personal challenges. It has been pleasure working with you all."
Ryan W, Graduate
"Training with LEA has been a fantastic experience. From the moment I arrived until I left (with a successful first series IR) I felt part of a family. Nothing was too much trouble and the team were always there whenever I needed assistance.They have a great training centre with all the latest technologies that one would expect of a modern ATO. The staff are approachable and efficient in what they do. Its a very professional and inclusive environment which makes arriving for training each day an absolute pleasure.
LEA have a great team of knowledgeable instructors who always go out of their way to get the best out of the sortie and the individual. Learning is productive and consistent with sound debriefs and areas to focus study on. Thus, building up a sturdy foundation which prepared me well for my final skills test.After a day of flying its great to return to LEAs exclusive accommodation. Here you can relax with fellow cadets or take a short trip into Oxford to take in the local sights; there is so much to do there just isn't enough time. I have had a fantastic experience with LEA and wish them every success in the future."
Brett P, Graduate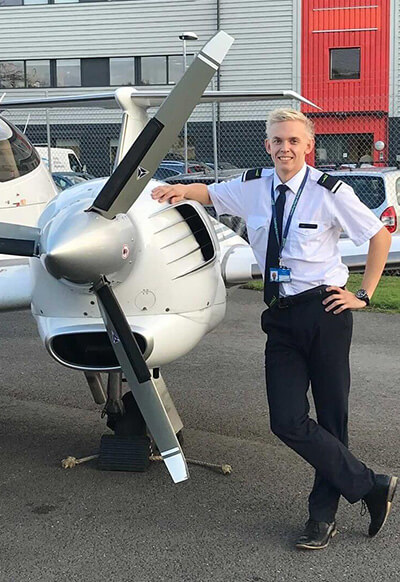 "Really enjoying my training so far with Leading Edge Aviation . In one month we have already completed half of our CPL/ME flight training and the final exams are already around the corner."
Joakim R, Graduate.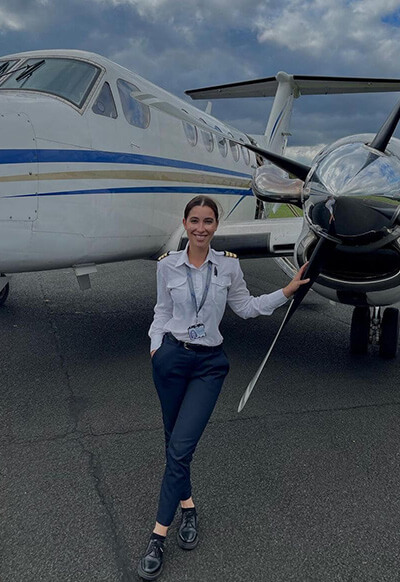 "I feel incredibly fortunate to be flying modern multi engine aircraft and to be taught by such great instructors at Leading Edge. The first two weeks have consisted of learning about the differences between flying single and multi-engine aircraft and I've enjoyed every second of it!"
Jess De Melo, Graduate.
"Another big thank you to Leading Edge for their outstanding teaching and their incredible new course on the A320, once again going above and beyond to give the students the best possible opportunity for our future careers."
Alex Ramos, Graduate
"Thank you for everything again. I would have so many good things to say about Leading Edge Aviation. This Training has been the best so far, I really enjoyed it.
I really appreciated the quality of the tools we had to make it, the simulator and the instructor's professionalism. The LEA team has been really welcoming. If I had to do everything again but in one school, I would go for Leading Edge Aviation."
Hugo B, APS MCC Graduate
"I cannot recommend or thank Leading Edge enough for the outstanding innovative service they have provided for my son during his pilot training.
Leading Edge have delivered on all aspects of their promises to create a new kind of Aviation Academy which excels in learning excellency, delivers results and – most importantly to me as a parent – support in which the cadet comes first.
I have had first hand dealing with the CEO Andy McFarlane who, true to his word, was 'hands on' and available for support and advice at every stage of my son's training. I can endorse his passion for the aviation industry and sincerity in providing his cadets with the best learning experience possible. Mr. McFarlane has created a first-class executive team and the combination of their skill, customer service and expertise is second to none in the aviation industry. Special thanks to goes to the customer support team for their outstanding support, motivation and helping to make the training fun along the way."
Susan F, Parent of Graduate
"I was so impressed with the Virtual Skills Assessment process at Leading Edge. We knew exactly when to log on and complete tasks such as the online aptitude tests. The interview and group exercise ran extremely well, the connections were great and the group task was thoroughly enjoyable, even though conducting it over video call makes it slightly harder not to talk over anybody! Feedback was given at the end, face to face over video call, and was followed up with written feedback over email so I was able to reflect on any areas and take on-board the feedback from the assessors."
Future Pilot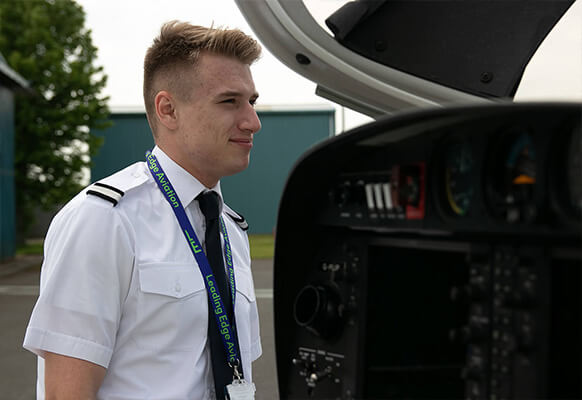 "At Leading Edge, the training is to the best quality and is airline focused. This makes me confident that not only will I be able to pass my exams, but be a skilled pilot when working for an airline in the future."
Tom H, Graduate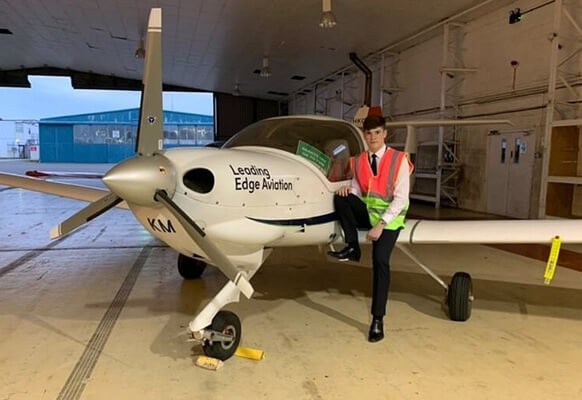 "The virtual Skills Assessment was a very smooth process. The Leading Edge team were very helpful, and put me at ease before my interview. I'm now really excited to start the course in September!"
Harvey, Student
"The Leading Edge team have made this a fantastic place to study. I can wholeheartedly say that I would recommend them to anybody who is looking to become a pilot."
Tom, Graduate
"Once again a big thanks to Leading Edge Aviation for the outstanding course on the A320 simulator and the guidance and teaching we received throughout our training. The training and support I received was second to none and I am so proud to have been a part of the Leading Edge family!
The APS course led and designed by Leading Edge Aviation was outstanding. Using the new A320 simulator, the course took us all the way from learning how to start the A320 up to our final assessment where we were able to fly two sectors and handle all the emergencies that were thrown at us! Throughout the course it was clear that every part of the course had been reimagined from the pre reading content (some of which included manuals, a V360 online simulator and 360 videos of the manoeuvres we were going to do) to embedding Airline operational Awareness in nearly every sim we did."
Kieran W, Graduate
"I'd like to thank Leading Edge Aviation for providing the highest quality training, and a training environment I have loved being part of. It was a pleasure to be surrounded by such amazing people throughout my training, and I wish everyone success in their endeavours! Beyond excited for what's to come!"
Amir J, Graduate
"Leading Edge Aviation have worked tirelessly to get us back up to standard for our exams and back on track to finish our pilot training. I couldn't recommend this place enough"
Andy I, Graduate
Stay in the loop. Get the latest news from Leading Edge Aviation.
You can opt out at any time. Please see our privacy policy for further details.
We have four Diamond Twin Star DA42's. Two are the latest DA42 VIs (one is fresh from the factory), and the others are TDIs and NGs. These twin-engined aircraft are ideal to fly when training and offer student commercial pilots the very latest in technology, safety, and performance.
Each of our four-seater DA42s is equipped with advanced avionics, two-axis autopilot, G1000 flight instrumentation (EFIS) and Full Authority Digital Engine Control (FADEC). The aircraft's efficient engines, performance, stability, handling characteristics and ease of operation are second to none, giving trainee pilots the ideal environment for advanced commercial flight training.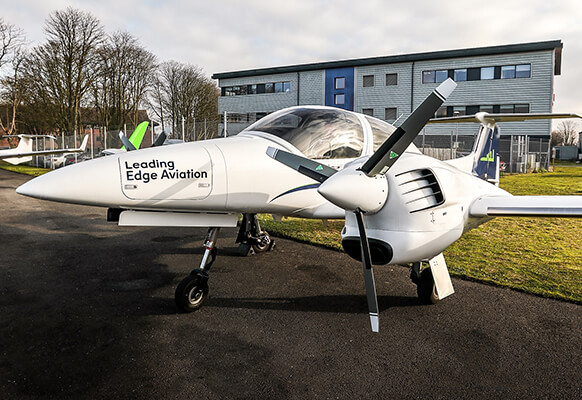 Our Slingsby Firefly is the T67M variant, which served with the Royal Hong Kong Auxiliary Air Force, and remains in that unique colour scheme, fitted with a 200HP engine. This superb training aircraft is used to teach Advanced Upset Prevention and Recovery Training (AUPRT).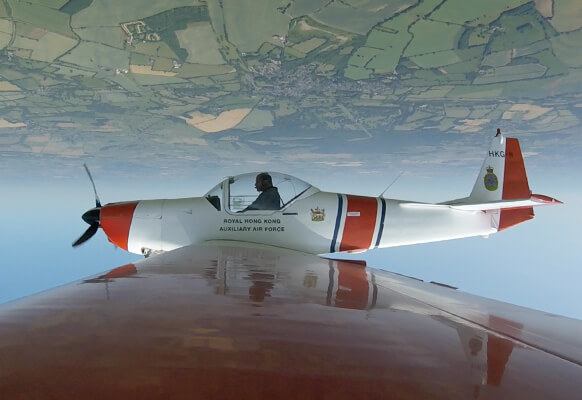 Diamond Aircraft DA42
Our newest simulator, which came direct from Diamond Aircraft is located at our dedicated Simulator facility, Hangar 18 – close to the academy.
It's an exact replica of the Diamond DA42, the twin-engined aircraft you'll fly in. It's fixed-base,  and Diamond flight simulators are built with authentic aircraft parts, with real avionics, high-end visuals and OEM flight dynamic models for fidelity that is simply unsurpassed. The instrument panel is fitted with the Garmin G1000 NXi avionics suite and standby instruments, allowing you to train in a completely realistic environment. The simulator is at the cutting edge of the industry, meaning you'll receive the most sophisticated sim training in preparation for advanced flight training.
ALSIM Diamond DA42
The ALSIM AL42 simulator is located at our Sim Centre at Glenmore Business Park, close to the academy.
It's fixed-base, built using genuine aircraft parts and is also equipped with the latest Garmin G1000NXi avionics suite. It also comes with the latest generation visual system, GFC 700 autopilot and PBN/LPV capabilities.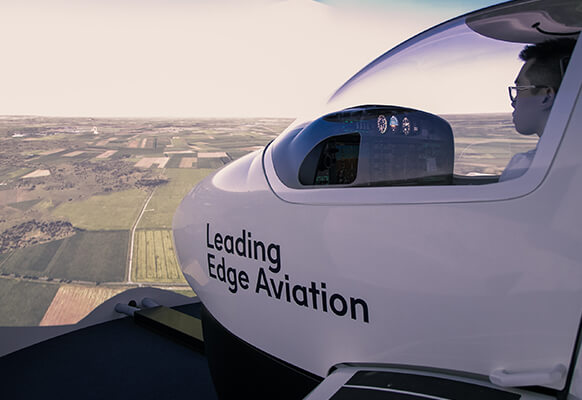 Airbus A320
For the final phase of your course, the three week APS MCC (Airline Pilot Standards Multi-Crew Cooperation), you will complete your training in our new MPS Airbus A320 FTD-1 simulator. The Airbus simulator is an immersive training experience that will help you prepare for your future career in aviation.