Modular commercial pilot training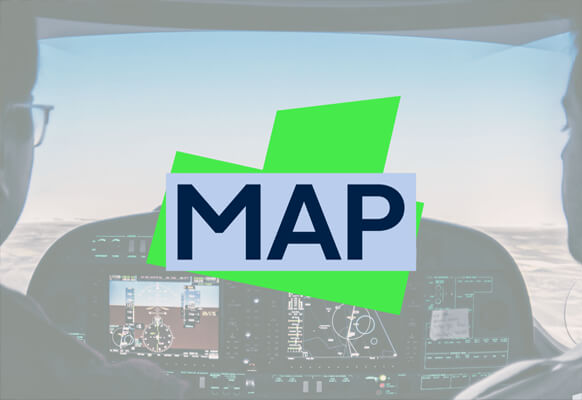 Flexible. Focused. Friendly. Modular pilot training allows you to gain your commercial wings in stages, full or part-time, at a pace that suits you.
If you have some flying experience and now want to train for an airline career, this is the course for you.
The flexible nature of the modular route allows you to 'learn as you earn' and can be completed more easily alongside existing work, family, or other commitments. Our modular pricing structure is simple and transparent, making budgeting for commercial pilot training easier.
Some modular students may be part-time, but you're still part of the Leading Edge family. You'll get the same high standard of professional training that our integrated students receive: small, supportive classes, the latest learning aids, and tailored tuition to build your flying skills quickly and efficiently. There's no two-tier system at Leading Edge.
Once you've completed each stage of the Modular Course, you'll be fully qualified and ready to apply for your first airline pilot role.
Leading Edge, Oxford Campus
Before you start
Aged 18 or over at the start of training (no upper age limit!)
Class 1 Medical
PPL(A)
Night Rating
169 hours (of which 100 as PIC with qualifying cross country)
Once you have a PPL, Night Rating and Class 1 Medical, our flexible commercial training modules take you from private pilot to airline ready.
If you've not yet got a PPL, visit your local flying school for a trial lesson. If you're bitten by the flying bug, complete your licence, and then we'll take you from PPL to airline-ready.
Before beginning the CPL flight training stage, you'll need 169 hours in your log book (of which 100 as PIC with qualifying cross country).
If you don't yet hold a Night Rating, it can be included in your training plan at cost.
If you are looking to join us on our Modular ground school or uMAP course you will need to complete our application process.
The application process includes:
An application form with situational awareness questions.
Maths & Physics test.
A short telephone interview.
Successful completion of our Application process means you're eligible to embark on our Modular ground school or uMAP course.
Leading Edge, Oxford Campus
Our Modular Course starts with an education in ATPL(A) theoretical knowledge. Building on PPL theory, you'll develop the knowledge and understanding required for the Airline Transport Pilot Licence. You'll study 13 subjects, in three modules, with regulatory exams at the end of each module. We use Padpilot theory ebooks and our class sizes are small so that we can support you throughout your training.
As with our LEAP course, you will be studying the most up to date academic syllabus, and will also study KSA100 (Knowledge, Skills & Attitude).
13 subjects
Aircraft General Knowledge
Instrumentation
Meteorology
Human Performance & Limitations
Principles of Flight
Communications 
Air Law
Flight Planning
Mass & Balance
Aeroplane Performance

General Navigation

Radio Navigation

Operational Procedures
3 modules
750 training hours (minimum)
26 progress checks
13 Qualifying exams
Distance Learning: Vector
While our full time ATPL theory course is the most direct route to completing the theoretical phase of training we appreciate that sometimes people may require more flexibility. To help with this, we offer a distance learning option – Vector.
To learn more about the Vector course, click the link below. 
Before you can begin your Commercial Pilot Licence training, you must have 169 hours in your log book (of which 100 as Pilot In Command, with qualifying cross country).
If you need to do some Hour Building before your CPL, we can help! Our Hour Building options each have one straightforward price, with no hidden extras, meaning you can focus on progressing your training within budget. Contact us today for some more information on the Hour Building options we offer.
Multi-Engine Commercial Pilot Licence (CPL)
Leading Edge, Alhama Campus
With ATPL ground school complete, you can take a break from training, or move straight into commercial flight training. Your training will be conducted at our fair-weather base in Alhama where skilled instructors will build on your existing flying skills and take you to the next level: qualified commercial pilot.
CPL
Aircraft: DA42
Training hours: 31.0 Plus Commercial Pilot Licence Skills Test
Multi-Engine Instrument Rating (MEIR)
Leading Edge, Oxford Campus
Your airline preparation continues with advanced flight training. You'll train in our AL42 simulator, learn to operate a Diamond DA42 twin-engine aircraft and how to fly in instrument and all weather conditions.
Competency based Instrument Rating courses are available, dependent on experience.
MEIR
Aircraft: AL42 simulator & DA42
Training hours: 51.3 (may be reduced, depending on experience) Includes Instrument Rating Skills Test
Total aircraft time: 20.8 hours
Total sim time: 30.5 hours
Advanced Upset Prevention and Recovery Training (AUPRT)
Leading Edge, Oxford Campus
The final stage of training is Advanced UPRT. This short, intensive course will progress your flying skills to the next level. Using a combination of theory and flight training, you'll learn how to apply the correct recovery techniques if you encounter upsets in flight at any time in your aviation career.
AUPRT
Aircraft: Slingsby Firefly
Training hours: 4.5 flight training hours (+5 ground school)
Airline Pilot Standards Multi-Crew Cooperation course (APS MCC)
Leading Edge, Oxford Campus
The APS MCC is conducted in our state of the art MPS Airbus A320 FTD-1 Simulator and will be your first taste of flying as an airline pilot. You'll work as a crew, learning how to fly a modern swept-wing jet airliner using Standard Operating Procedures (SOPs).
APS MCC
25 hours (minimum) Theoretical Knowledge Instruction, including Airline Oriented Training
20 hours of briefing and de-briefing before and after simulator training sessions
40 hours of type-specific (A320) flight simulator training, with pass/fail Final Assessment
Online access to all training materials and manuals
Use of self-study material, including digital cockpits and immersive 360 degree bite-size training videos
Graduate Employment Services
Leading Edge, Oxford Campus
Held at our academy in Oxford, our bespoke Graduate Employment Services workshop will help you prepare for your first airline assessment. Our instructors, who have a plethora of experience in pilot recruitment, will guide you through what to expect at an airline assessment process, ensuring that you are as prepared as possible to gain your first airline role.
The course will cover:
Airline applications
Maximising your first impression
Personal development plans
CV workshops
Cover letter creation
Interview techniques & mock interviews
Group exercise training
Leading Edge, Oxford Campus
If you're currently studying for a relevant aviation degree, you will need a flight school for the professional elements of your course. Typically, you'll complete year 1 of your degree with your university, then in year 2 join a flight school for ground school ATPL theoretical knowledge and foundation flight training. Years 3-4 combine further university course studies with advanced flying back with your chosen flight school (varying schedules dependent on your uni).
Rather than selecting individual modular courses with individual training providers, we have developed a course, uMAP (university Modular Airline Preparation), that integrates with your university degree. Not only does this mean you're studying with one professional organisation with the highest standards, you will also save money!
To find out more about what's included in our uMAP course click the link below.
Ready for departure? Our friendly team are standing by to help. Please complete this form and we'll get back to you shortly.