Frequently Asked Questions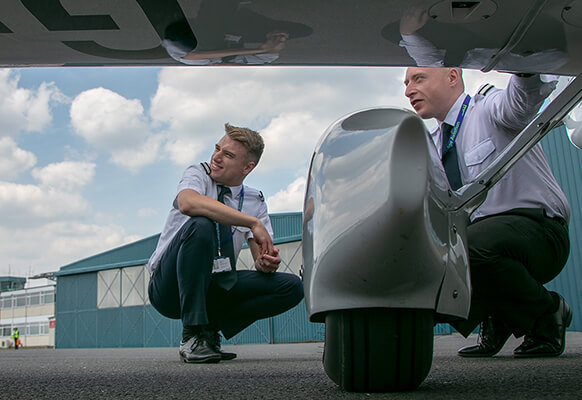 Got questions? We're here to help.
The Leading Edge team has answered some of the most frequently asked pilot training questions below, but if you can't find the answer here, please get in touch.
Entry Requirements and Selection
What is the minimum/ maximum age to train?
You need to be at least 18 to join the Academy. But there's no upper age limit to train with us as long as you can hold an unrestricted UK CAA Class 1 Medical.
I want to be a pilot – what should I do first?
Well, first, if you are in school, make sure you are studying the right subjects! You will need 5 x GCSEs including English, Maths and Science (Physics, ideally).
In our opinion, the most important thing to do is to fly. If you can, get a trial flight in a light aircraft, this will allow you to get a taste for the aviation bug, it would be amazing if your trial flight was in a Diamond DA40 (as that is what you will start your training in) but something similar Cessna 152/ 172, Piper PA-28 etc would be just as great. This is often something that students don't get round to but if you can, go for a flight and make sure you enjoy it.
After that, we suggest you visit lots of academies to find the right school for you… (hopefully it ends up being Leading Edge Aviation!) from there it's getting your Class 1 medical and attending a skills assessment and away you go!
What is the Skills Assessment process?
Our Skills Assessment is a day-long assessment that usually takes place here at the Academy. It involves a few different theoretical and practical exercises, designed to test your aptitude and suitability for the course.
Taking the Skills Assessment
Before we meet you, we'll ask you to answer some online questions. These will give you a bit of a taster of what's to come in the main assessment.
On the day you'll do a number of exercises at the Academy, including a formal interview, a group exercise, and aptitude tests, which would include maths. Experts in each of these fields will score you against set criteria, then at the end of the day you'll be given feedback on how you've done.
While you're taking the assessment, you'll also have the chance to get to know the other potential students. But don't worry, you won't be competing against each other. Each student will be assessed individually.
What happens next?
If you're successful you'll be offered a place on the course. We're so confident in our Skills Assessment that we also offer a Training Guarantee. So if you fail to pass the course for reasons of aptitude rather than attitude, we promise to pay back your training fees.
If I don't pass, can I reapply?
Not everyone is successful on the day. This might be down to a number of different reasons—not least, a touch of the jitters. As part of our feedback, we'll highlight the areas that need your extra attention and give you a time frame for trying again. We can also point you towards the right help and support. There's no limit to the number of times you can retake a Skills Assessment but if it takes you more than a couple of tries, our assessor will give you some honest feedback about your reasonable prospects.
Can I book now?
Yes! Click here to book your place on the next scheduled skills assessment day.
Can I come and view Leading Edge Aviation before I attend a Skills Assessment?
Absolutely! We offer 1-1 tours and hold regular open days.
How long do I have to start training after completion of a successful Skills Assessment?
On completion of a successful skills assessment it is valid for 12 months from the date, if you fall outside the 12 month period you will be required to take an additional Skills Assessment.
What Qualifications do I need?
5 x GCSEs (including English, Maths & Science, preferably Physics!) level 4/C and above.
Do I need to be fit and healthy to be a pilot?
If you are able to attain an unrestricted UK CAA Class 1 Medical, you meet the fitness requirements
I wear glasses – is this a problem?
You do not need to have perfect vision; however, the UK CAA require you to have a certain standard of vision, you should contact a UK CAA Authorised Medical Examiner (AME) to find out more.
I have a medical condition/ allergy – will this stop me being a pilot?
Not necessarily. Unfortunately, we are unable to comment on anything relating to medical conditions and restrictions. You will be required to obtain a Class 1 medical to commence training at Leading Edge Aviation.
Please contact the issuing authority for further information regarding medicals, in the case of the UK the CAA should be able to assist.
If you are the holder of an EU Passport you can train with Leading Edge Aviation – Currently we are unable to offer Tier 4 sponsorship but watch this space!
How can I fund my course?
We are unable to offer financial advice, however, all our training programmes are self-funded with the exception of our Fully Funded LEAP & FI Course. Our suggestion would be to speak to an independent financial advisor who will be in the best position to discuss the products/ options that may be available.
Please click here to view our course fees.
Can I get Student Finance to assist with funding?
Students who complete our Integrated LEAP Course are (subject to eligibility) able to access Student Finance funding which can be credited against your course fees, this is accessible as our LEAP course is an accredited degree course with Bucks New university and includes a Batchelor of Sciences Degree in Air Transport Management with Pilot Studies.
What happens if I become ill and cannot finish my course, will I get my money back?
Thankfully it doesn't happen often, but occasionally students become ill and are either prevented or delayed from finishing the course. In extreme circumstances, illness could mean that you lose your Class 1 Medical and can't complete the flying phase of the course. If this happens, our Training Guarantee will become invalid, so we strongly recommend taking out Loss of Medical Insurance to protect yourself. One of our training advisors can help you find out more about this.
How much will my living costs be during my training?
Included with our LEAP course is everything you will need to complete your training, we also include accommodation, transport to and from the academy, and basic living essentials (bedding, kitchen utensils, uniform).
For your personal living costs, throughout your training it's difficult to say exactly how much you will spend as everyone has a slightly different budget. You will need money for things such as laundry, food, personal items and anything else outside of your training you can think of. As an indicative cost, most people budget between in the region of £250-£500 per month of training.
The best advice we could give would be to make a monthly budget for all the costs that will come up throughout your training (living costs, car insurance, medical, holidays and anything else you can think of!) and work from there.
What is a Training Guarantee?
If you pass our skills assessment and sign up to our LEAP course, you will be eligible for our Training Guarantee.  This means that if you need any additional training, all the additional training fees and regulatory charges such as exam fees will be covered within the fixed course price. The only exception to this would be if a student demonstrated a lack of commitment, poor general attitude or failed to attend training.
How long will my training take?
Our Integrated LEAP Course takes approximately 18 training months from start to finish and our Modular Course upgrade approximately 12 training months to take your existing Private Pilot's License to an Airline Ready, fATPL
What is the difference between Integrated and Modular?
Our Integrated LEAP Course takes you from zero flight experience all the way to an airline-ready fATPL, this is an ab initio program and is designed to train you in our Standard Operating Procedures (SOPs) from your first flight all the way through to your Instrument Rating. The course is full time and takes approximately 18 training months.
Our Modular Training Program is designed to allow you to fly on your terms, to start this program you will have already have a PPL, we will work with you to design a bespoke program that fits your needs.
Take a look at our courses to find out more.
What classes are covered in Ground School?
There are 13 classes/ exams in the following subjects:
Air law
Aircraft General Knowledge – Airframe/Systems/Powerplant
Aircraft General Knowledge – instrumentation
Mass and balance
Performance
Flight planning and monitoring
Human performance
Meteorology
General Navigation
Radio Navigation
Operational procedures
Principles of flight
Communications (visual flight rules, and instrument flight rules)
Where will I do the flying phase of the course?
Our primary base is at London Oxford Airport (ICAO: EGTK). Throughout your training you will operate out of a range of airports and airfields to give you a broad experience of both controlled and uncontrolled environments.
Where is your accommodation?
Our primary accommodation site is The Arc in Kidlington and is approximately 5 minutes drive from London Oxford Airport.
We also have accommodation at Slade Park in Headington, just a 10-15 mins drive away.
How many students do you have in a class?
At Leading Edge we keep our class sizes smaller than a typical flight school may have. We believe that by keeping the courses small, it benefits learning, allows a collaborative environment but at the same time allows the students and instructors to receive individual, focused teaching and overall is of a greater training benefit.
What is an APS-MCC?
APS-MCC is the final phase of your programme and will be your first taste of flying as an airline pilot. You'll work as a crew, learning how to fly a modern passenger jet airliner (in our Airbus A320 FTD-1 simulator) using standard operating procedures, while gaining an insight into the airline environment.
What qualifications will I end up with at the end of my training?
With our Integrated LEAP course at the end of training you will be a fully qualified Commercial Pilot, airline ready with a Frozen ATPL and an undergraduate Bachelor of Sciences degree in Air Transport Management with Pilot Studies.
Leading Edge Aviation are approved to provide both UK CAA and EASA Flight Training.
Will I get a UK CAA or EASA licence?
Leading Edge Aviation are approved to deliver UK CAA & EASA Flight Training, offering you the option to hold either a UK CAA license or the ability to maximize employability and hold dual UK CAA & EASA Licenses!
Do you provide PPL training?
Whilst our Integrated LEAP Course takes you from no experience to fATPL, our Modular course requires a PPL to start.
Our neighbours Pilot Flight Training who are also based at London Oxford Airport (ICAO: EGTK) can assist you in achieving your PPL.
What do I need to bring to my training? (belongings, transport)
Included in your training we will provide you with a Pilot Bag stocked with everything you will need for your training – including charts, flight planning tools, a logbook and even your own Leading Edge iPad.
All Leading Edge Aviation accommodation, as standard, come equipped with, basic cooking utensils, crockery, cutlery and glassware, along with duvet, pillow and the relevant linen and a shared iron & ironing board.
Transport from our accommodation to the academy is also included.
You may wish to bring a few personal belonging such as a laptop or if you have a hobby such as cycling, bring your bike!
Will I get any time off/ holidays?
Time off is generally not permitted during training however scheduled leave is built into the programme in between phases to offer you a chance to relax and prepare for your next phase.
Mental and Physical Wellbeing for our Students & Staff is something is extremely important to Leading Edge Aviation, throughout your time with us, our Customer Experience team will work closely with you to support your progress and give you any extra support you might need.
What will I fly?
For the initial single engine phase of your training you will fly Garmin G1000 Avionics equipped Diamond DA40 aircraft, you will then progress on to our state of the art G1000 Diamond DA42 fleet for the multi-engine phase of your training. In addition to this you will complete Simulator training on our ALSIM DA42 FNPT II Simulator and Upset & Recovery Training will be carried out on our Slingsby Firefly.
Click here to view our fleet! 
Do Leading Edge Aviation provide UPRT Training?
Yes – Included in the syllabus of both our Integrated LEAP and Modular Courses is an Advanced UPRT course in our Slingsby T67 Firefly.
In addition to this, the course can be provided standalone for a Fee (including accommodation) of £2,145 including VAT.
Revalidations and Renewals
I hold an EASA licence, can I revalidate/renew my ratings with Leading Edge Aviation?
Yes! We are EASA approved so we are able to help you revalidate/renew your rating.
I hold an EASA licence, can I gain a UK CAA licence while I revalidate/renew my EASA licence?
This is something we are able to offer, providing you meet the requirements that are laid out by the UK CAA. We suggest contacting the UK CAA directly to find out what you are required to complete and then we can build a training package that meets this. Please note, it is likely you will need to complete two separate skill tests as the UK test examiner is allocated by the UK CAA and we cannot guarantee that his examiner will be dual qualified.
Can I revalidate my IR in the DA42 Simulator?
Instrument Ratings can only be revalidated in the DA42 Simulator providing all of the below conditions are met:
Your Instrument Rating is current.
Your Multi-Engine Piston Class Rating is current.
Your last Instrument Rating Initial/Revalidation/Renewal Skills test was completed in an aircraft.
What materials, if any, do Leading Edge Aviation provide for revalidations and renewals?
We will provide you with a checklist and QRH for the relevant aircraft/sim, all other training materials must be provided by yourself.
What happens if the weather prevents me from flying for my revalidation or renewal?
If you are unable to fly due to weather or an operational restriction, we will attempt to reschedule you as soon as possible. We recommend having a few spare days after you are due to finish with us to allow for any rebookings that are required.
Am I guaranteed a job at the end of my training?
Whilst we don't guarantee you a job at the end of your training, we do provide you with all the skills and support you need to be successful at Airline interviews.
Our Airline Employment Services include Simulator training through our APS MCC and our three day Airline Preparation Workshop.
How will you prepare me for the airlines?
Through our Airline Employment services you will take part in an Airline Preparation Workshop and our team (who have a wealth of experience in pilot recruitment at every level) will support you every step of the way in to your first airline role, including – Airline Application assistance, CV Workshops, Mock Interviews and Group Exercise training
Do you have any links with airlines?
We don't currently have contracts with specific airlines, but we do have long standing professional relationships with many! Our graduates have gone on to be offered roles with a number of different airlines including Air Tanker, British Airways, easyJet, Jet2 and many more!