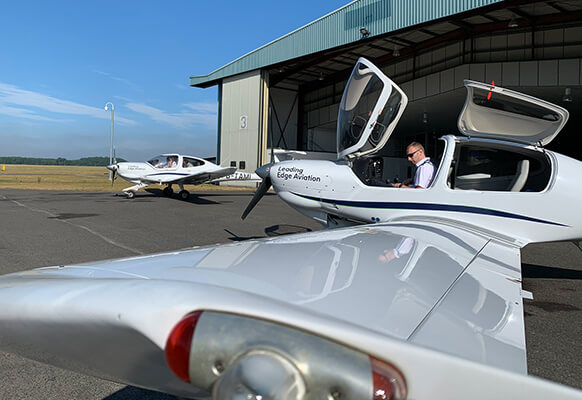 World-class pilot training, unrivalled support and a life changing experience at London Oxford Airport. Our aircraft, sim and accommodation are all within a stone's throw of Oxford, providing you with a vibrant city campus and a busy professional airspace.
The Leading Edge Academy offers the perfect combination of purpose-built training facilities located at a fully equipped international airport.
Airspeed House at Oxford Airport will be your main base. It's bright, modern and the home of Operations, Ground School and Flight Training, as well as all support staff. 
At the academy, the learning spaces all have ergonomic furniture, air conditioning, and smart screens to optimise your training experience, and you'll find some of our cutting edge training technology here, too. Our use of NeuroTracker X will take your training to the next level, and our state-of-the-art Sim Centre is located nearby.
Designed over three floors, the academy has plenty of space for small group teaching, flight planning, private study and those all-important break times!
Leading Edge has a portfolio of accommodation for our students. Which includes –
The Arc
This Arc is the newest building added to the LEAL property portfolio. Custom built for Leading Edge Aviation . Students will share two room apartments with ensuite bathrooms and sleek modern interiors including fully fitted kitchens and living areas. Every apartment has its own laundry facilities the building also features a number of spacious roof terraces.
This property will be opening in Late Summer 2021, stay tuned for more information…
Westminster Hall
This student accommodation site is in Westminster Hall, which is part of the Oxford Brookes University, Harcourt Hill campus.
Harcourt Hill is set in 110 acres and has its own sports centre, launderette and restaurant. Oxford city centre is a short bus ride away, and we provide a regular shuttle service to and from the academy.
Within Westminster Hall, our students each have an en-suite room in self-contained apartments with other Leading Edge students. There is a fully equipped kitchen and communal area for each apartment.
Slade Park 
This site is based in Headington, Oxford and the accommodation consists of 4/5 bedroomed apartments which our students share with their fellow colleagues. All bedrooms are ensuite and each apartment has a self contained kitchen, there is also a communal space at this site for socialising which hosts a pool table, study room, TV room and laundry facilities.
You'll live on the outskirts of Oxford and can enjoy everything this famous student city has to offer.
As well as the historic Oxford Univerisity colleges, the city boasts a vast range of shops, museums, clubs, cafes, restaurants, bars and a busy calendar of events and entertainment. When you need a relaxing break, head out to the nearby countryside. Oxfordshire has beautiful parkland to explore by foot, as well as by air.
The Leading Edge Aviation Sim Centre at Hanger 18 is our dedicated simulator facility. Located a short distance away from our main academy at Oxford Airport, it offers over 9000 square feet to house our expanding simulator fleet.
Our fleet currently includes two Diamond DA42 and Airbus A320 simulators. In addition, the facility includes several briefing rooms to ensure that our students have all the necessary space to prepare and debrief their lessons.